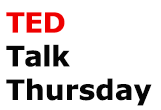 According to TED.com: "Nick Hanauer is a rich guy, an unrepentant capitalist — and he has something to say to his fellow plutocrats: Wake up! Growing inequality is about to push our societies into conditions resembling pre-revolutionary France. Hear his argument about why a dramatic increase in minimum wage could grow the middle class, deliver economic prosperity … and prevent a revolution."
"Nick Hanauer has founded, co-founded and funded more than 30 companies across a range of industries, with a pretty notable record of success. As a few highlights, he cofounded a company called aQuantive that sold to Microsoft for $6.4 billion, and was the first non-family investor in Amazon.
"Meanwhile Hanauer, a "proud and unapologetic capitalist," has also been looking closely at society's growing inequality gap, and the consequences it holds for our shared destiny — and the ultimate fate of our democracies. In 2007, he and civic activist Eric Liu co-wrote the book The True Patriot, an examination of progressive patriotism. This was followed by 2011's The Gardens of Democracy, also with Liu, a vision for "growing" good citizens."
I hope you find talk this useful.
Nick Hanauer: Beware, fellow plutocrats, the pitchforks are coming
For those of you not familiar with TED Talks here is a brief summery from www.ted.com: "TED is a small nonprofit devoted to Ideas Worth Spreading. It started out (in 1984) as a conference bringing together people from three worlds: Technology, Entertainment, Design. Since then its scope has become ever broader. Along with two annual conferences — the TED Conference in Long Beach and Palm Springs each spring, and the TEDGlobal conference in Oxford UK each summer — TED includes the award-winning TEDTalks video site, the Open Translation Project and Open TV Project, the inspiring TED Fellows and TEDx programs, and the annual TED Prize"
——————————————————————————————————–
I look forward to your thoughts and comments!