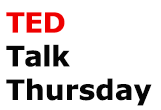 For those of you not familiar with TED Talks here is a brief summery of them from www.ted.com:
"TED is a small nonprofit devoted to Ideas Worth Spreading. It started out (in 1984) as a conference bringing together people from three worlds: Technology, Entertainment, Design. Since then its scope has become ever broader. Along with two annual conferences — the TED Conference in Long Beach and Palm Springs each spring, and the TEDGlobal conference in Oxford UK each summer — TED includes the award-winning TEDTalks video site, the Open Translation Project and Open TV Project, the inspiring TED Fellows and TEDx programs, and the annual TED Prize"
According to www.ted.com:
"Physicist Brian Greene explains superstring theory, the idea that minscule strands of energy vibrating in 11 dimensions create every particle and force in the universe."
"Greene, a professor of physics and mathematics at Columbia University, has focused on unified theories for more than 25 years, and has written several best-selling and non-technical books on the subject including The Elegant Universe, a Pulitzer finalist, and The Fabric of the Cosmos—each of which has been adapted into a NOVA mini-series. His latest book, The Hidden Reality, explores the possibility that our universe is not the only universe.
Greene believes science must be brought to general audiences in new and compelling ways, such as his live stage odyssey, Icarus at the Edge of Time, with original orchestral score by Philip Glass, and the annual World Science Festival, which he co-founded in 2008 with journalist Tracy Day."
Enjoy his talk:
——————————————————————————————————–
I look forward to your thoughts and comments!
Be sure to Subscribe to this blog either by RSS or Email via the forms on the top right column of the page.