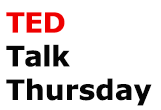 According to TEDTalks: "Body language affects how others see us, but it may also change how we see ourselves. Social psychologist Amy Cuddy shows how "power posing" — standing in a posture of confidence, even when we don't feel confident — can affect testosterone and cortisol levels in the brain, and might even have an impact on our chances for success.
"Amy Cuddy's research on body language reveals that we can change other people's perceptions — and even our own body chemistry — simply by changing body positions.
"Amy Cuddy wasn't supposed to become a successful scientist. In fact, she wasn't even supposed to finish her undergraduate degree. Early in her college career, Cuddy suffered a severe head injury in a car accident, and doctors said she would struggle to fully regain her mental capacity and finish her undergraduate degree.
"But she proved them wrong. Today, Cuddy is a professor and researcher at Harvard Business School, where she studies how nonverbal behavior and snap judgments affect people from the classroom to the boardroom. And her training as a classical dancer (another skill she regained after her injury) is evident in her fascinating work on "power posing" — how your body position influences others and even your own brain."
Enjoy this intriguing talk.
For those of you not familiar with TED Talks here is a brief summery from www.ted.com:
"TED is a small nonprofit devoted to Ideas Worth Spreading. It started out (in 1984) as a conference bringing together people from three worlds: Technology, Entertainment, Design. Since then its scope has become ever broader. Along with two annual conferences — the TED Conference in Long Beach and Palm Springs each spring, and the TEDGlobal conference in Oxford UK each summer — TED includes the award-winning TEDTalks video site, the Open Translation Project and Open TV Project, the inspiring TED Fellows and TEDx programs, and the annual TED Prize"
——————————————————————————————————–
I look forward to your thoughts and comments!
Be sure to Subscribe to this blog either by RSS or Email via the forms on the top right column of the page.