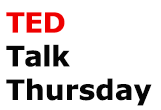 According to TEDx Talks: "For 30 years, until retirement in 1997, Dr. Coleman Barks taught poetry and creative writing at the University of Georgia. As a professor emeritus, Dr. Barks still resides in Athens and writes and publishes under his own imprint, Maypop Books, as well as HarperCollins, the University of Georgia Press, and others. In addition to several poetry collections and books, Dr. Barks is the author of numerous translations of Rumi and has been a student of Sufism since 1977. His work with Rumi, a Persian mystical poet, was the subject of an hour-long segment on Bill Moyers's Language of Life series on PBS, and he is a featured poet and translator in Bill Moyers's poetry special, "Fooling with Words."
What better way to begin a New Year than with Rumi? Enjoy!
For those of you not familiar with TED Talks here is a brief summery from www.ted.com: "TED is a small nonprofit devoted to Ideas Worth Spreading. It started out (in 1984) as a conference bringing together people from three worlds: Technology, Entertainment, Design. Since then its scope has become ever broader. Along with two annual conferences — the TED Conference in Long Beach and Palm Springs each spring, and the TEDGlobal conference in Oxford UK each summer — TED includes the award-winning TEDTalks video site, the Open Translation Project and Open TV Project, the inspiring TED Fellows and TEDx programs, and the annual TED Prize"
——————————————————————————————————–
I look forward to your thoughts and comments!