This week we have another free mandala to color from Freepik (see last week's post, Mandala Monday – Free OM Mandala to Color from Freepik, for another Freepik offering). This one has a drawing of Ganesha in the center. For those of you unfamiliar with Ganesha, Wikipedia states: "Although he is known by many attributes, Ganesha's elephant head makes him easy to identify.[6] Ganesha is widely revered as the remover of obstacles,[7] the patron of arts and sciences and the deva of intellect and wisdom.[8] As the god of beginnings, he is honoured at the start of rituals and ceremonies. Ganesha is also invoked as patron of letters and learning during writing sessions."
Enjoy!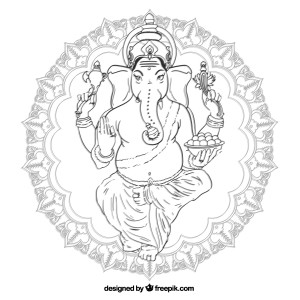 Right-Click Here to Download a full size image of the Ganesha Mandala
————————————————————————————————
I look forward to your thoughts and comments!