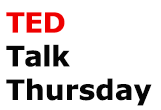 According to  TEDxTalks:
"Marcia Wieder is the CEO/Founder® of Dream University and the spokesperson for the Million Dreams Campaign, where she is committed to helping one million dreams come true over the next year."
"The author of 14 books, she has appeared on Oprah, the Today show and was featured in her own PBS-TV called Making Your Dreams Come True. As a columnist for the San Francisco Chronicle column urged readers to take "The Great Dream Challenge." She is a member of the Transformational Leadership Council with Jack Canfield and John Gray. As past president of the National Association of Women Business Owners she assisted three U.S. presidents and currently she serves on the advisory board for the Make A Wish Foundation here in LA".
I think you'll find this very inspiring. Enjoy!
For those of you not familiar with TED Talks here is a brief summery from www.ted.com:
"TED is a small nonprofit devoted to Ideas Worth Spreading. It started out (in 1984) as a conference bringing together people from three worlds: Technology, Entertainment, Design. Since then its scope has become ever broader. Along with two annual conferences — the TED Conference in Long Beach and Palm Springs each spring, and the TEDGlobal conference in Oxford UK each summer — TED includes the award-winning TEDTalks video site, the Open Translation Project and Open TV Project, the inspiring TED Fellows and TEDx programs, and the annual TED Prize"
——————————————————————————————————–
I look forward to your thoughts and comments!
Be sure to Subscribe to this blog either by RSS or Email via the forms on the top right column of the page.