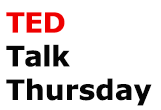 For those of you not familiar with TED Talks here is a brief summery of them from www.ted.com:
"TED is a small nonprofit devoted to Ideas Worth Spreading. It started out (in 1984) as a conference bringing together people from three worlds: Technology, Entertainment, Design. Since then its scope has become ever broader. Along with two annual conferences — the TED Conference in Long Beach and Palm Springs each spring, and the TEDGlobal conference in Oxford UK each summer — TED includes the award-winning TEDTalks video site, the Open Translation Project and Open TV Project, the inspiring TED Fellows and TEDx programs, and the annual TED Prize"
This week's talk of a story of Life by photographer Frans Lanting. According to www.ted.com:
"In this stunning slideshow, celebrated nature photographer Frans Lanting presents The LIFE Project, a poetic collection of photographs that tell the story of our planet, from its eruptive beginnings to its present diversity. Soundtrack by Philip Glass."
"In the pursuit of his work, Frans Lanting has lived in the trees with wild macaws, camped with giant tortoises inside a volcanic crater, and documented never-before-photographed wildlife and tribal traditions in Madagascar. The Dutch-born, California-based photographer has traveled to Botswana's Okavango Delta, the rain forests of Borneo and the home of emperor penguins in Antarctica."
"The resulting photographs — staggering in their beauty, startling in their originality — have brought much-needed attention to endangered species and ecological crises throughout the world. In 2001, HRH Prince Bernhard of the Netherlands inducted Lanting as a Knight in the Royal Order of the Golden Ark, the country's highest conservation honor — just one of many honors he has received throughout his illustrious career."
Enjoy!
——————————————————————————————————–
I look forward to your thoughts and comments!
Be sure to Subscribe to this blog either by RSS or Email via the forms on the top right column of the page.