I found 2 new places to draw mandalas online. The first I found from the post Mandala-Making: Release Your Inner Wisdom, a tutorial on how to draw mandalas, which also links to a video, which we featured on November 7, 2016 (Mandala Monday – How to draw Mandalas (even if you can't draw) by Andrea Schroeder). In addition, Mandala-Making: Release Your Inner Wisdom also points you to MyOats.com where you can draw your own mandala with their interface and download it to color, or color it online.
The instructions for using the tool on MyOats.com are included in the post and I have copied them for you here as well:
Go to the MyOats.com creation page.
From the bottom menu, choose your "Stage Color" as white and "Shape Color" as black.
From here you can play with the drawing "Tools" on the bottom menu. It works well if you start with the "Polygon" shape option and then add details with the "Smooth Pencil." To make a more intricate pattern, go the "Sides" tab on the bottom menu and increase the number.
On the upper menu, you can undo or clear your work under the "Edit" tab.
The "Download Wallpaper" function under the "File" tab creates the perfect downloadable and printable coloring page!
Note: Under the "View" tab of the top menu, unchecking the "Blur" option makes for a cleaner coloring page printout.*
(*These instructions are directly quoted from Mandala-Making: Release Your Inner Wisdom)
You can also simply make colorful mandalas online using this program and share them with friends!
This post has lots of other mandala links and information. Those include links to mandala coloring pages as well as a link to download mandalas to color right from the post. Here is an example of one of them: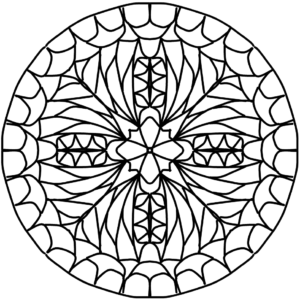 This post is a treasure trove of mandala information. Enjoy.
Another cool site to draw mandalas online is Drawerings.com. They also have apps for your phone or tablet that can be found at http://www.drawerings.com/app .
So go forth and draw mandalas online! Happy mandala making.
——————————————————————————————————–
I look forward to your thoughts and comments!