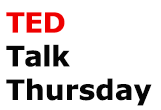 According to www.ted.com: "In 2003, the Palestinian village of Budrus mounted a 10-month-long nonviolent protest to stop a barrier being built across their olive groves. Did you hear about it? Didn't think so. Brazilian filmmaker Julia Bacha asks why we only pay attention to violence in the Israel-Palestine conflict — and not to the nonviolent leaders who may one day bring peace."
"Julia Bacha is the Media Director at Just Vision and the director and producer of "Budrus," a documentary about a West Bank village, a giant barrier and nonviolent resistance."
What would happen if we paid attention to the efforts toward peace in the world rather than the violence? What would be possble? What IS possble?
For those of you not familiar with TED Talks here is a brief summery from www.ted.com:
"TED is a small nonprofit devoted to Ideas Worth Spreading. It started out (in 1984) as a conference bringing together people from three worlds: Technology, Entertainment, Design. Since then its scope has become ever broader. Along with two annual conferences — the TED Conference in Long Beach and Palm Springs each spring, and the TEDGlobal conference in Oxford UK each summer — TED includes the award-winning TEDTalks video site, the Open Translation Project and Open TV Project, the inspiring TED Fellows and TEDx programs, and the annual TED Prize"
——————————————————————————————————–
I look forward to your thoughts and comments!
Be sure to Subscribe to this blog either by RSS or Email via the forms on the top right column of the page.