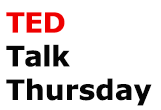 For those of you not familiar with TED Talks here is a brief summery of them from www.ted.com:
"TED is a small nonprofit devoted to Ideas Worth Spreading. It started out (in 1984) as a conference bringing together people from three worlds: Technology, Entertainment, Design. Since then its scope has become ever broader. Along with two annual conferences — the TED Conference in Long Beach and Palm Springs each spring, and the TEDGlobal conference in Oxford UK each summer — TED includes the award-winning TEDTalks video site, the Open Translation Project and Open TV Project, the inspiring TED Fellows and TEDx programs, and the annual TED Prize"
This week's video is a not to miss, visually stunning look at life at our earth's rapidly changing poles. According to www.ted.com:
"Diving under the Antarctic ice to get close to the much-feared leopard seal, photographer Paul Nicklen found an extraordinary new friend. Share his hilarious, passionate stories of the polar wonderlands, illustrated by glorious images of the animals who live on and under the ice.
"Paul Nicklen grew up one of only a few non-Inuit in an Inuit settlement on Baffin Island, Nunavut, Canada — a childhood that taught him the patience, stamina and respect for nature required for his beat in the frigid climes of Earth's polar regions. Best known for his vivid and intimate wildlife photos for National Geographic, Nicklen started out a biologist in the Northwest Territories, gathering data on such species as lynx, grizzlies, and polar bears. Today he bridges the gap between scientific research and the public, showing how fragile and fast-changing habitats are profoundly affecting wildlife.
"During the course of his workday Nicklen regularly comes face-to-face with fantastic creatures: narwhals, Arctic foxes, elephant seals, and more. His most amazing experience? An underwater encounter with a leopard seal who for four days tried to feed him penguins through the "mouth" of his lens."
I hope you find this as amazing and beautiful as I have. Enjoy!
——————————————————————————————————–
I look forward to your thoughts and comments!
Be sure to Subscribe to this blog either by RSS or Email via the forms on the top right column of the page.