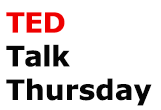 According to ted.com: "Taylor Wilson believes nuclear fusion is a solution to our future energy needs, and that kids can change the world. And he knows something about both of those: When he was 14, he built a working fusion reactor in his parents' garage. Now 17, he takes the TED stage at short notice to tell (the short version of) his story."
Enjoy!
More about Taylor from ted.com:  "Physics wunderkind Taylor Wilson astounded the science world when, at age 14, he became the youngest person in history to produce fusion. The University of Nevada-Reno offered a home for his early experiments when Wilson's worried parents realized he had every intention of building his reactor in the garage.
Wilson now intends to fight nuclear terror in the nation's ports, with a homemade radiation detector priced an order of magnitude lower than most current devices. In 2012, Wilson's dreams received a boost when he became a recipient of the $100,000 Thiel Prize. Wilson now intends revolutionize the way we produce energy, fight cancer, and combat terrorism using nuclear technology."
For those of you not familiar with TED Talks here is a brief summery from www.ted.com:
"TED is a small nonprofit devoted to Ideas Worth Spreading. It started out (in 1984) as a conference bringing together people from three worlds: Technology, Entertainment, Design. Since then its scope has become ever broader. Along with two annual conferences — the TED Conference in Long Beach and Palm Springs each spring, and the TEDGlobal conference in Oxford UK each summer — TED includes the award-winning TEDTalks video site, the Open Translation Project and Open TV Project, the inspiring TED Fellows and TEDx programs, and the annual TED Prize"
——————————————————————————————————–
I look forward to your thoughts and comments!
Be sure to Subscribe to this blog either by RSS or Email via the forms on the top right column of the page.