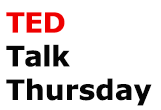 According to TEDTalks: "Alain de Botton examines our ideas of success and failure — and questions the assumptions underlying these two judgments. Is success always earned? Is failure? He makes an eloquent, witty case to move beyond snobbery to find true pleasure in our work.
"Through his witty and literate books — and his new School of Life — Alain de Botton helps others find fulfillment in the everyday.
"It started in 1997, when Alain de Botton turned away from writing novels and instead wrote a touching extended essay titled How Proust Can Change Your Life, which became an unlikely blockbuster in the "self-help"category. His subsequent books take on some of the fundamental worries of modern life (am I happy? where exactly do I stand?), informed by his deep reading in philosophy and by a novelist's eye for small, perfect moments. His newest book is The Pleasures and Sorrows of Work.
"In 2008, de Botton helped start the School of Life in London, a social enterprise determined to make learning and therapy relevant in today's uptight culture. His goal is (through any of his mediums) to help clients learn "how to live wisely and well."
Enjoy this witty and enlightening talk.
For those of you not familiar with TED Talks here is a brief summery from www.ted.com:
"TED is a small nonprofit devoted to Ideas Worth Spreading. It started out (in 1984) as a conference bringing together people from three worlds: Technology, Entertainment, Design. Since then its scope has become ever broader. Along with two annual conferences — the TED Conference in Long Beach and Palm Springs each spring, and the TEDGlobal conference in Oxford UK each summer — TED includes the award-winning TEDTalks video site, the Open Translation Project and Open TV Project, the inspiring TED Fellows and TEDx programs, and the annual TED Prize"
——————————————————————————————————–
I look forward to your thoughts and comments!
Be sure to Subscribe to this blog either by RSS or Email via the forms on the top right column of the page.