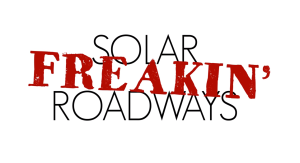 While I usually post a TED Talk on Thursday, this week I just had to introduce you to a technology that is not only on someone's drawing board, but in production and testing. This is an amazing product. We could soon have Solar Freakin' Roadways.
Scott Brusaw did give a TED Talk on this new solar technology in 2010 at TEDxSacramento which you can view at https://youtu.be/nvWTaqUvsfA, but now it is 5 years later and the dream is becoming a reality so I chose to share a more recent video I saw on Facebook. Please watch this video! You will be amazed!
URLs for more information are at the bottom of the page.
For more information go to Solar Roadways, http://www.solarroadways.com/intro.shtml
To see more videos go to Solar Roadways Videos, http://www.solarroadways.com/videos.shtml
To contribute to the project go to Solar Roadways-In Demand, https://www.indiegogo.com/projects/solar-roadways/x/4792540#/story
——————————————————————————————————–
I look forward to your thoughts and comments!