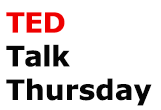 According to ted.com: "Fifteen-year-old Tavi Gevinson had a hard time finding strong female, teenage role models — so she built a space where they could find each other. At TEDxTeen, she illustrates how the conversations on sites like Rookie, her wildly popular web magazine for and by teen girls, are putting a new, unapologetically uncertain and richly complex face on modern feminism."
This talk comes from a playlist called "Smart kids' life advice." I highly recommend the entire series. Enjoy this insightful talk!
For those of you not familiar with TED Talks here is a brief summery from www.ted.com: "TED is a small nonprofit devoted to Ideas Worth Spreading. It started out (in 1984) as a conference bringing together people from three worlds: Technology, Entertainment, Design. Since then its scope has become ever broader. Along with two annual conferences — the TED Conference in Long Beach and Palm Springs each spring, and the TEDGlobal conference in Oxford UK each summer — TED includes the award-winning TEDTalks video site, the Open Translation Project and Open TV Project, the inspiring TED Fellows and TEDx programs, and the annual TED Prize"
——————————————————————————————————–
I look forward to your thoughts and comments!