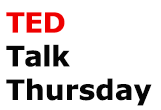 For those of you not familiar with TED Talks here is a brief summery of them from www.ted.com:
"TED is a small nonprofit devoted to Ideas Worth Spreading. It started out (in 1984) as a conference bringing together people from three worlds: Technology, Entertainment, Design. Since then its scope has become ever broader. Along with two annual conferences — the TED Conference in Long Beach and Palm Springs each spring, and the TEDGlobal conference in Oxford UK each summer — TED includes the award-winning TEDTalks video site, the Open Translation Project and Open TV Project, the inspiring TED Fellows and TEDx programs, and the annual TED Prize."
Today we have the follow up to last week's talk, TED Talk Thursday – Eric Whitacre: A choir as big as the Internet. According to Ted.com:
In a moving and madly viral video last year, composer Eric Whitacre led a virtual choir of singers from around the world. He talks through the creative challenges of making music powered by YouTube, and unveils the first 2 minutes of his new work, "Sleep," with a video choir of 2,052.
Eric Whitacre began his music career singing in his college choir, with no previous musical experience. By 21, he had completed his first concert work, Go, Lovely Rose, and soon advanced to Juilliard where he studied under Oscar-winning composer John Corigliano. Today, his 44 published concert pieces have sold over a million copies, he has conducted choral music in some of the most esteemed halls in the world and his music has been featured on dozens of commercial recordings. His album Cloudburst and Other Choral Works earned him a Grammy nomination in 2007.
Most recently, Whitacre has been noticed for his cutting-edge work, Paradise Lost: Shadows and Wings, a musical that combines electronica with choral and operatic traditions. The musical has earned him the prestigious Richard Rodgers Award, received 10 nominations at the 2007 Los Angeles Stage Alliance Ovation Awards, and performed to a sold-out crowd at Carnegie Hall in 2010.
Here is the TED Talk:
And here is the new piece, Sleep:
Check out the stories behind the video at: http://ericwhitacre.com/the-virtual-choir/stories
—————————————————————————————————————
I look forward to your thoughts and comments!
Be sure to Subscribe to this blog either by RSS or Email via the forms on the top right column of the page.