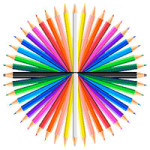 As you well know, not everyone (very few perhaps) can sit still long enough to achieve a meditative state. The longer you sit the more difficult it is to push passing thoughts out of your mind and maintain focus. Before you know it you are fretting over work, planning a dinner menu, or just giving up. Our action-oriented, multi-tasking, Western society simply doesn't mesh with traditional Eastern 
meditation techniques
. This is where active meditation comes to the rescue.Active meditation, sometimes called moving meditation, is easier to learn, but just as powerful as the Eastern techniques you may be more familiar with. When practicing active meditation you will chose a simple movement, like coloring, drawing, or even walking, to give you stronger focus. The repetitive motions act as a constant reminder allowing you to easily shift your attention back to the meditation, back to the moment, before any fleeting thoughts take hold. Negative images, past regrets and future worries are simply pushed aside as you take the time to enjoy the present. When is the last time you've done that? Or, have you ever done that?In my book and in my workshops, I use coloring as the primary active meditation technique. After all, it's easy, inexpensive, fun and allows you to open up your creative side, something that most adults rarely do. Below are basic step-by-step instructions on how to effectively meditate while coloring. If you are ready, grab your supplies and find a quiet space to enjoy this peaceful pastime.Step One: Start the session with a smile. Don't skip this step just because it sounds a little silly. Holding a light smile on your face will help put you in a receptive mood for the meditation. In fact, studies have proven that smiling, even when you are not happy, can raise the level of endorphins (mood enhancing chemicals) in your 
brain
. So, start smiling!
Step Two: Flip through a coloring book and pick the first design that peaks your interest. There are a lot of beautiful adult coloring books available in bookstores and online. Some authors, myself included, offer free coloring pages on their websites.
Step Three: Choose your first pencil or marker and then begin to color. No need to over-think this, in fact I'm always amazed at the color combinations I come up with during a meditation and how wonderful they look together. I often find myself using colors I would normally ignore and then loving the end result. Whenever possible let the colors chose themselves.
Step Four: Watch the design take life with every stroke. Allow yourself to experience the movements, hear the sounds of the pencils on paper, or feel the markers as they glide across the page. As thoughts or pictures pop into your head (and they will) simply acknowledge them and then return your focus to the coloring. The coloring will always bring you back. With a little practice you will find it increasingly easy to get into a deeply relaxed, almost detached state.
Coloring is a peaceful pastime used by a variety of peoples, religions, and institutions to heal the mind and the body. To learn more about active meditation, explore the topic of color interpretation, or download a free mandala design, please visit my website at www.30minutemandalas.com.
Read more: http://www.articlesbase.com/meditation-articles/easy-meditation-through-active-coloring-meditation-206972.html#ixzz15SmhwIPn
Under Creative Commons License: Attribution
Michelle Normand – About the Author:
Michelle Normand is a graphic designer and author of 30-Minute Mandalas coloring book. She also works as a Mind-Body Fitness Specialist, teaching workshops on the subject in her new home in Dublin, Ohio. Michelle's second book, 30-Minute Celtic Mandalas will be out later this winter. For more information about Michelle and the healing power of coloring therapy visit her website at http://www.30minutemandalas.com.
—————————————————————————————————————
I look forward to your thoughts and comments!
Be sure to Subscribe to this blog either by RSS or Email via the forms on the top right column of the page.