Each week for 3 Mondays I am featuring a mandala coloring tip from Mandala Coloring Meditation Kit 2.0 along with a free mandala to color.. This post is week 3 in the series. For a complete experience of mandala coloring see the product: Mandala Coloring Meditation Kit 2.0
This week's tip and mandala by Mandala Coloring Meditation Kit 2.0:
TIP 3) Make use of one of the most powerful things in the universe: work with an intention!
Deepak Chopra, the best selling author, writes: `Intentions compressed in words enfold magical power`. Taking this perspective into account, stating a mandala coloring intention is great way to make yourself available for all the gifts the universe has for you!
Imagine you are ready to go; you have your mandala coloring pages print outs, your color makers, pencils, pencil sharpener, glass of water, and everything else you need to enjoy coloring mandalas pages. Great! Now it is time to give birth to your mandala coloring intention;
why will you color a mandala?
Is it to relax?
Is it to find a creative answer to a problem in your life?
Is it to let go of stress?
Is it to make a present for a friend?
Is to it make yourself available for new insights in your relationship, work,…?
Dare to state big intentions! Maybe you want to make yourself available to meet your soulmate? To earn more money? To become a more sincere person? To start a new life? A mandala coloring intention can be anything, as long as it lifts you up and inspires you.
Here is this week's mandala to color: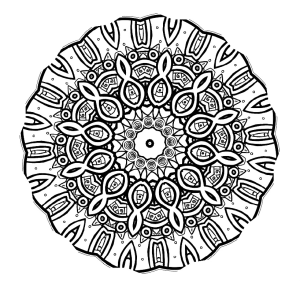 To download a large image for coloring right-click on the image above and select "Save Target As…" or "Save File As…" or "Save this Link as.." (depending on what browser you use). Mac users with a 1 button mouse can control/click rather than right-click.
Enjoy!
For more information about coloring mandalas see Mandala Coloring Meditation Kit 2.0 of which I am an affiliate.
——————————————————————————————————–
I look forward to your thoughts and comments!
Be sure to Subscribe to this blog either by RSS or Email via the forms on the top right column of the page.