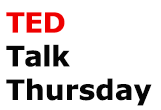 According to ted.com: "Women aren't micro–so why do they only get micro-loans? Reporter Gayle Tzemach Lemmon argues that women running all types of firms– from home businesses to major factories– are the overlooked key to economic development."
"Gayle Tzemach Lemmon never set out to write about women entrepreneurs. She was simply looking for a great—and underreported—economics story after leaving ABC News for MBA study at Harvard to pursue her interest in economic development.
"What she found was women entrepreneurs in some of the toughest business environments creating jobs against daunting obstacles. Since then her writing on entrepreneurship has appeared in publications including the International Herald Tribune and Financial Times along with the World Bank and the International Finance Corporation.
"While working in finance at the global investment firm PIMCO, Lemmon went on to write a book about a young Afghan teacher-turned-entrepreneur whose dressmaking business supported women around her neighborhood under the Taliban. The Dressmaker of Khair Khana became a New York Times bestseller and the subject of a Harvard Business School case study.
"Now a fellow at the Council on Foreign Relations and a contributing editor-at-large for Newsweek Daily Beast, Lemmon continues to travel the world reporting on economic and development issues with a focus on women. She is author of the Newsweek March 2011 cover story "The Hillary Doctrine" and the September 2011 profile on U.N. Women's Michelle Bachelet."
Enjoy this inspiring talk.
For those of you not familiar with TED Talks here is a brief summery from www.ted.com:
"TED is a small nonprofit devoted to Ideas Worth Spreading. It started out (in 1984) as a conference bringing together people from three worlds: Technology, Entertainment, Design. Since then its scope has become ever broader. Along with two annual conferences — the TED Conference in Long Beach and Palm Springs each spring, and the TEDGlobal conference in Oxford UK each summer — TED includes the award-winning TEDTalks video site, the Open Translation Project and Open TV Project, the inspiring TED Fellows and TEDx programs, and the annual TED Prize"
——————————————————————————————————–
I look forward to your thoughts and comments!
Be sure to Subscribe to this blog either by RSS or Email via the forms on the top right column of the page.