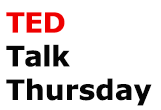 For those of you not familiar with TED Talks here is a brief summery of them from www.ted.com:
"TED is a small nonprofit devoted to Ideas Worth Spreading. It started out (in 1984) as a conference bringing together people from three worlds: Technology, Entertainment, Design. Since then its scope has become ever broader. Along with two annual conferences — the TED Conference in Long Beach and Palm Springs each spring, and the TEDGlobal conference in Oxford UK each summer — TED includes the award-winning TEDTalks video site, the Open Translation Project and Open TV Project, the inspiring TED Fellows and TEDx programs, and the annual TED Prize"
According to TEDxTalks:
"Akala demonstrates and explores the connections between Shakespeare and Hip-Hop, and the wider cultural debate around language and it's power."
"MOBO award-winning hip hop artist 'Akala' is a label owner and social entrepreneur who fuses rap/rock/electro-punk with fierce lyrical storytelling (think Wu-Tang Clan and Aphex Twin meets Rage Against The Machine). With Akala's latest record, convention-defying album DoubleThink, Akala has proven himself as one of the most dynamic and literate talents in the UK. Inspired by the likes of Saul Williams and Gil Scott Heron, Akala has also developed a reputation for stellar live performances with his drummer Cassell 'TheBeatmaker' headlining 5 UK tours and touring with everyone from Jay-Z, Nas & Damian Marley, M.I.A. and Christina Aguilera to Siouxsie Sue and Richard Ashcroft, appearing at numerous UK / European and US festivals (Glastonbury, Big Chill, Wireless, V, Hove and SXSW) also partnering with the British Council promoting British arts across Africa, Vietnam (the first rapper to perform a live concert in Vietnam), New Zealand and Australia. In 2009, Akala launched the 'The Hip-hop Shakespeare Company', a hotly-tipped music theatre production enterprise which has sparked worldwide media interest since its inception. Previous collaborators include: British actor; Sir Ian McKellen, actor/musician; Colin Salmon and Royal Shakespeare Company Voice Director; Cicely Berry. 2011 sees the launch Akala's latest endeavour 'Illa State Productions' to garner his budding scriptwriting talent alongside TV presenting and as a music composer for various TV and Film projects."
Enjoy this fascinating talk!
——————————————————————————————————–
I look forward to your thoughts and comments!
Be sure to Subscribe to this blog either by RSS or Email via the forms on the top right column of the page.