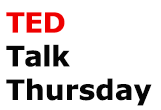 According to TED.com : "Look at the letters around you: on street signs, stores, restaurant menus, the covers of books. Whether you realize it or not, the letters are speaking to you, telling you something beyond the literal text — that whatever they represent is modern or finely crafted or fantastical or zany. Learn to decode this secret language with lettering designer Martina Flor as she explains how altering the shapes, colors and textures of letters changes how we perceive them.
"Martina Flor combines her talents as designer and illustrator in the drawing of letters. Through her work as an artist and teacher, she has helped establish letter design in the European design scene."
This talk was presented to a local audience at TEDxRiodelaPlata, an independent event. TED editors featured it among our selections on the home page.
The secret language of letter design by Martina Flor
For those of you not familiar with TED Talks here is a brief summery from www.ted.com: "TED is a small nonprofit devoted to Ideas Worth Spreading. It started out (in 1984) as a conference bringing together people from three worlds: Technology, Entertainment, Design. Since then its scope has become ever broader. Along with two annual conferences — the TED Conference in Long Beach and Palm Springs each spring, and the TEDGlobal conference in Oxford UK each summer — TED includes the award-winning TEDTalks video site, the Open Translation Project and Open TV Project, the inspiring TED Fellows and TEDx programs, and the annual TED Prize"
——————————————————————————————————–
I look forward to your thoughts and comments!