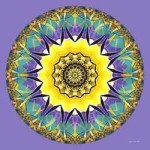 On my Facebook Fan Page, Mandalas by Atmara, I like to list links to interesting mandala related sites on the web. If you have downloaded Mandalas Galore (free when you join my mailing list), you've seen some of those. I'm always finding new ones so I thought I'd list some here that I've found since I put the Mandalas Galore PDF together.
—————————————————————————————————————
I look forward to your thoughts and comments!
Be sure to Subscribe to this blog either by RSS or Email via the forms on the top right column of the page.