F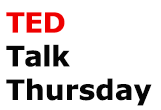 or those of you not familiar with TED Talks here is a brief summery of them from www.ted.com:
"TED is a small nonprofit devoted to Ideas Worth Spreading. It started out (in 1984) as a conference bringing together people from three worlds: Technology, Entertainment, Design. Since then its scope has become ever broader. Along with two annual conferences — the TED Conference in Long Beach and Palm Springs each spring, and the TEDGlobal conference in Oxford UK each summer — TED includes the award-winning TEDTalks video site, the Open Translation Project and Open TV Project, the inspiring TED Fellows and TEDx programs, and the annual TED Prize"
According to www.ted.com:
"Actor Thandie Newton tells the story of finding her "otherness" — first, as a child growing up in two distinct cultures, and then as an actor playing with many different selves. A warm, wise talk, fresh from stage at TEDGlobal 2011."
"Born in England, her mother is Zimbabwean, and Newton is active in nonprofit work across the African continent. In 2008, she visited Mali for a campaign to bring clean water to six African nations, and as a V Day board member, Newton visited the Congo earlier this year to raise awareness of the chronic issue of sexual violence toward women and girls."
This is an extraordinary talk about Oneness and Awareness, and the constant death and rebirth of the ego self we think we are. Enjoy!
——————————————————————————————————–
I look forward to your thoughts and comments!
Be sure to Subscribe to this blog either by RSS or Email via the forms on the top right column of the page.