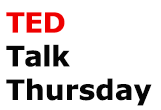 According to www.ted.com:
"In Lebanon there is one gunshot a year that isn't part of a scene of routine violence: The opening sound of the Beirut International Marathon. In a moving talk, marathon founder May El-Khalil explains why she believed a 26.2-mile running event could bring together a country divided for decades by politics and religion, even if for one day a year."
"The Beirut Marathon is the largest running event in the Middle East. May El-Khalil founded it as an instrument of peace. El-Khalil was inspired to start the marathon after a personal tragedy: a near-fatal running accident. Doctors told her she would never run again. She was hospitalized for two years and had to undergo a long series of surgeries. But the resolve from this personal struggle created an event that, each year, draws runners and fans from opposing political and religious communities in a symbolic act of peace. Case in point: In 2012, on a rainy and windy November day, more than 33,000 runners turned out. Other countries around the region are now thinking of replicating this model."
Enjoy this inspirational talk:
For those of you not familiar with TED Talks here is a brief summery from www.ted.com:
"TED is a small nonprofit devoted to Ideas Worth Spreading. It started out (in 1984) as a conference bringing together people from three worlds: Technology, Entertainment, Design. Since then its scope has become ever broader. Along with two annual conferences — the TED Conference in Long Beach and Palm Springs each spring, and the TEDGlobal conference in Oxford UK each summer — TED includes the award-winning TEDTalks video site, the Open Translation Project and Open TV Project, the inspiring TED Fellows and TEDx programs, and the annual TED Prize"
——————————————————————————————————–
I look forward to your thoughts and comments!
Be sure to Subscribe to this blog either by RSS or Email via the forms on the top right column of the page.