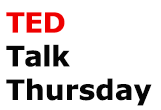 According to ted.com: "Child prodigy Adora Svitak says the world needs "childish" thinking: bold ideas, wild creativity and especially optimism. Kids' big dreams deserve high expectations, she says, starting with grownups' willingness to learn from children as much as to teach."
This talk comes from a playlist called "Smart kids' life advice." I highly recommend the entire series. Enjoy this insightful talk.
For those of you not familiar with TED Talks here is a brief summery from www.ted.com: "TED is a small nonprofit devoted to Ideas Worth Spreading. It started out (in 1984) as a conference bringing together people from three worlds: Technology, Entertainment, Design. Since then its scope has become ever broader. Along with two annual conferences — the TED Conference in Long Beach and Palm Springs each spring, and the TEDGlobal conference in Oxford UK each summer — TED includes the award-winning TEDTalks video site, the Open Translation Project and Open TV Project, the inspiring TED Fellows and TEDx programs, and the annual TED Prize"
——————————————————————————————————–
I look forward to your thoughts and comments!