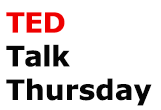 For those of you not familiar with TED Talks here is a brief summery of them from www.ted.com:
TED is a small nonprofit devoted to Ideas Worth Spreading. It started out (in 1984) as a conference bringing together people from three worlds: Technology, Entertainment, Design. Since then its scope has become ever broader. Along with two annual conferences — the TED Conference in Long Beach and Palm Springs each spring, and the TEDGlobal conference in Oxford UK each summer — TED includes the award-winning TEDTalks video site, the Open Translation Project and Open TV Project, the inspiring TED Fellows and TEDx programs, and the annual TED Prize.
Today's video addresses the issues of light and dark, specifically in architecture, but also in life. According to www.ted.com:
Lighting architect Rogier van der Heide offers a beautiful new way to look at the world — by paying attention to light (and to darkness). Examples from classic buildings illustrate a deeply thought-out vision of the play of light around us.light
Lighting designer Rogier van der Heide creates (and oversees) engaging, inspiring, three-dimensional design that fuses light, image projection, architecture and product design to create a memorable, authentic experience. He's been internationally recognized as one of the leading architectural lighting design specialists. He's the Chief Design Officer for Philips Lighting; before that, he was Director at Arup and Global Business Leader Lighting Design of Arup Lighting.
Enjoy this video and contemplate how darkess, on all levels. serves you in your life.
——————————————————————————————————–
I look forward to your thoughts and comments!
Be sure to Subscribe to this blog either by RSS or Email via the forms on the top right column of the page.