F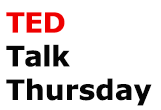 or those of you not familiar with TED Talks here is a brief summery of them from www.ted.com:
"TED is a small nonprofit devoted to Ideas Worth Spreading. It started out (in 1984) as a conference bringing together people from three worlds: Technology, Entertainment, Design. Since then its scope has become ever broader. Along with two annual conferences — the TED Conference in Long Beach and Palm Springs each spring, and the TEDGlobal conference in Oxford UK each summer — TED includes the award-winning TEDTalks video site, the Open Translation Project and Open TV Project, the inspiring TED Fellows and TEDx programs, and the annual TED Prize"
According to www.ted.com:
"Janet Echelman found her true voice as an artist when her paints went missing — which forced her to look to an unorthodox new art material. Now she makes billowing, flowing, building-sized sculpture with a surprisingly geeky edge. A transporting 10 minutes of pure creativity."
"Janet Echelman builds living, breathing sculpture environments that respond to the forces of nature — wind, water and light— and become inviting focal points for civic life.
Exploring the potential of unlikely materials, from fishing net to atomized water particles, Echelman combines ancient craft with cutting-edge technology to create her permanent sculpture at the scale of buildings. Experiential in nature, the result is sculpture that shifts from being an object you look at, to something you can get lost in."
Enjoy this presentation of this extraordinary work of Janet Echelman.
——————————————————————————————————–
I look forward to your thoughts and comments!
Be sure to Subscribe to this blog either by RSS or Email via the forms on the top right column of the page.