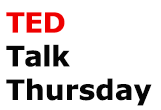 According to TED.com: "How can the US recover after the negative, partisan presidential election of 2016? Social psychologist Jonathan Haidt studies the morals that form the basis of our political choices. In conversation with TED Curator Chris Anderson, he describes the patterns of thinking and historical causes that have led to such sharp divisions in America — and provides a vision for how the country might move forward."
"By understanding more about our moral psychology and its biases, Jonathan Haidt says we can design better institutions (including companies, universities and democracy itself), and we can learn to be more civil and open-minded toward those who are not on our team.
Haidt is a social psychologist whose research on morality across cultures led to his 2008 TED Talk on the psychological roots of the American culture war, and his 2013 TED Talk on how "common threats can make common ground." In both of those talks he asks, "Can't we all disagree more constructively?" Haidt's 2012 TED Talk explored the intersection of his work on morality with his work on happiness to talk about "hive psychology" — the ability that humans have to lose themselves in groups pursuing larger projects, almost like bees in a hive. This hivish ability is crucial, he argues, for understanding the origins of morality, politics, and religion. These are ideas that Haidt develops at greater length in his book, The Righteous Mind: Why Good People are Divided by Politics and Religion."
Please listen and contemplate this thoughtful talk.
Jonathan Haidt: Can a divided America heal?
For those of you not familiar with TED Talks here is a brief summery from www.ted.com: "TED is a small nonprofit devoted to Ideas Worth Spreading. It started out (in 1984) as a conference bringing together people from three worlds: Technology, Entertainment, Design. Since then its scope has become ever broader. Along with two annual conferences — the TED Conference in Long Beach and Palm Springs each spring, and the TEDGlobal conference in Oxford UK each summer — TED includes the award-winning TEDTalks video site, the Open Translation Project and Open TV Project, the inspiring TED Fellows and TEDx programs, and the annual TED Prize"
——————————————————————————————————–
I look forward to your thoughts and comments!