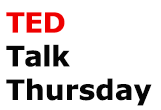 For those of you not familiar with TED Talks here is a brief summery of them from www.ted.com:
"TED is a small nonprofit devoted to Ideas Worth Spreading. It started out (in 1984) as a conference bringing together people from three worlds: Technology, Entertainment, Design. Since then its scope has become ever broader. Along with two annual conferences — the TED Conference in Long Beach and Palm Springs each spring, and the TEDGlobal conference in Oxford UK each summer — TED includes the award-winning TEDTalks video site, the Open Translation Project and Open TV Project, the inspiring TED Fellows and TEDx programs, and the annual TED Prize"
According to www.ted.com:
"Julian Treasure says our increasingly noisy world is gnawing away at our mental health — even costing lives. He lays out an 8-step plan to soften this sonic assault (starting with those cheap earbuds) and restore our relationship with sound."
"Julian Treasure is the chair of the Sound Agency, a firm that advises worldwide businesses — offices, retailers, hotels — on how to use sound. He asks us to pay attention to the sounds that surround us. How do they make us feel: productive, stressed, energized, acquisitive?"
"Treasure is the author of the book Sound Business and keeps a blog by the same name that ruminates on aural matters (and offers a nice day-by-day writeup of TEDGlobal 2009). In the early 1980s, Treasure was the drummer for the Fall-influenced band Transmitters."
Enjoy and learn how you can increase your sound health.
——————————————————————————————————–
I look forward to your thoughts and comments!
Be sure to Subscribe to this blog either by RSS or Email via the forms on the top right column of the page.