Most of you don't know this about me but earlier in my life I worked as a choral conductor. While illness has kept me from singing or conducting for many years, I still love choral music and thought from time to time I would share a piece with you along with a mandala.
Today I have a mandala to color from http://mandalasparapintar.blogspot.com. Below is a small version of the mandala: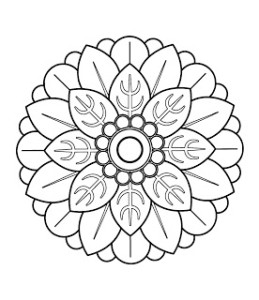 Download a larger version to color at: http://mandalasparapintar.blogspot.com/2010/11/mandala-chino-iii.html
And while you are coloring why not listen to this exquisite music, There Will Be Rest by Frank Ticheli.
According to Youtube this is: "Frank Ticheli conducting his own work There Will Be Rest with the Georgia State University Singers; November 8, 2011, Rialto Center for the Arts, Atlanta, GA"
Enjoy!
——————————————————————————————————–
I look forward to your thoughts and comments!