Mandala, which literally means "circle," refers to the intricate art form stemming from Buddhist and Hindu traditions. Normally, it is made as an intricate religious decoration full of meaningful geometrical elements. Jewelry artist David Weitzman of Ka Gold Jewelry makes the most exquisite Mandala ornaments.
Tibetans, most famous for their Mandala, make these objects using colored sand for long periods of time. Weitzman uses metal but his craftsmanship is inspired heavily by the Tibetan masterpieces. His intricate hand is seen in his Star of David Mandala, featuring complicated twisting of metals and a beautiful gem in the middle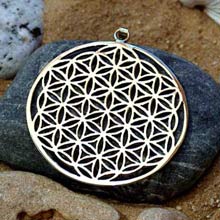 Flower of Life
Another carefully constructed Mandala is the Flower of Life pendant, supposedly used for its healing abilities. Weitzman outdid himself in this large round medallion, complexly made up of 13 spheres that hide universal mathematical and geometric laws. People who wear the Flower of Life report that they experience increased heart beat, prophetic dream, and a new view of reality. The Sri Yantra pendant, meanwhile, features a tangle of nine triangles weaved around a sacred center point. It's known to provide abundance, beauty and balance.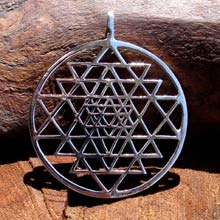 Sri Yantra
These Mandalas prove Weitzman's unparalleled ability to compose the most intricate and thoughtful jewelry. His passion and innovation truly provides a wonderfully unique and cosmic view of the world.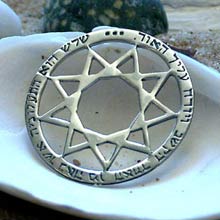 Enneagram
——————————————————————————————————–
David's work is beautiful. I purchased one of his pendants as a gift for a friend and she wears it often. I would highly recommend you visit his site. – Atmara

——————————————————————————————————–
I look forward to your thoughts and comments!
Be sure to Subscribe to this blog either by RSS or Email via the forms on the top right column of the page.