Today's video, Amethyst Mandala – How I Created this Mandala by Elemental Mandala, shows you how Elemental Mandala creates a mandala using photographs of a beautiful amethyst crystal. For those of you who love photographing nature this could lead you down a whole new path of creation.
This is what he says about this mandala:
"All of my mandalas begin as single photographs of nature – everything from lava and fire to leaves and water. I put this behind the scenes video together to show you how the process I used to create my Amethyst Mandala."
"When you look at the Amethyst Mandala, it might be a little tricky to tell that it actually came from a photograph of an amethyst crystal. That's why I wanted to show you the crystal itself, and what it actually looked like in real time from my camera lens. :)"
"The finished piece you see later in the video is a 24×24" Metal Infusion Print of the Amethyst Mandala. It is finished with hanging hardware and spacers on the back that allow the mandala to appear to be "floating" on the wall when it is displayed."
"This Amethyst Mandala is available in these different sizes: 30×30″ 24×24″ 16×16″ 12×12″ (Custom sizes can be anywhere from 5×5″ – 40×40″)"
I hope you find this inspiring.
Amethyst Mandala – How I Created this Mandala
You can learn more about this and other mandalas by visiting: http://www.elementalmandalas.com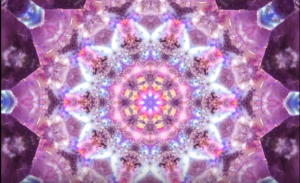 ——————————————————————————————————–
I look forward to your thoughts and comments!